More shameless self-promotion to distract from other more heated Bloggernacle happenings! My wife and I don't have children yet, but we do have a daughter-dog. Her name is Chicken Delicious and we love her to death. She's a mutt, her litter was rescued from a shelter at the last minute. Of course, we want her to be a part of our family forever, as this baby picture of her suggests: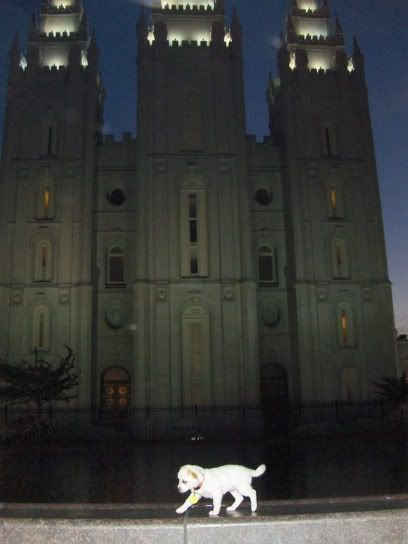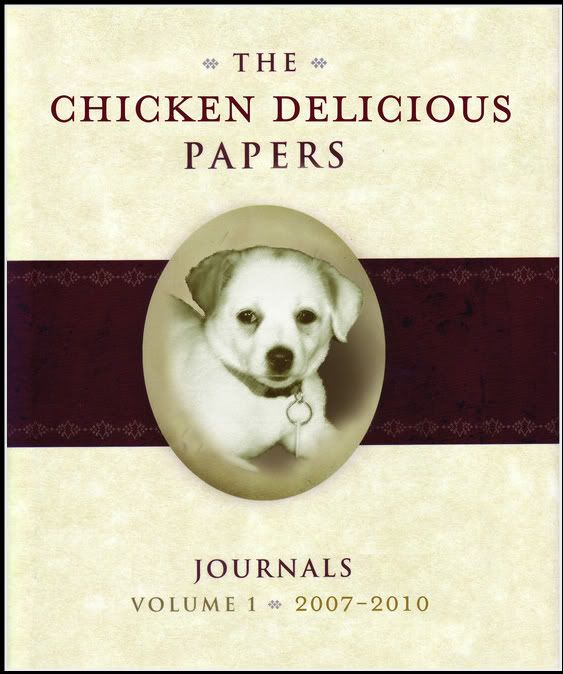 Chicken and I co-edited her papers just in time to present them to my wife for our anniversary. The bound volume includes color photographs of Chicken's life and times. Page one starts off with an excerpt from Chicken's first journal entry:
"I am Chicken Delicious and this is a minute account of all things that have come under my observations."
Because it is difficult for dogs to write, Chicken's papers are mostly photographs taken by other people of Chicken and her family. The journal does not include all known photographs of Chicken, however. Nevertheless, the editor (me) was quite conscientious in his selection, this is not a white-washed volume by any stretch. Photo's include some embarrassing moments, including the time when Chicken ripped open her favorite toy which we called "Tube-y," a long green canvas dog with a squeaker in it. Other embarrassing moments include Chicken's first bath and an unflattering picture of her sneezing. These moments do not detract from the overall positive account of Chicken's life so far.
The Chicken Delicious Papers, Journal, Vol. 1: 2007-2010 is a meticulously edited, and meticulously cute volume, a limited edition print run of (1) copy.